Services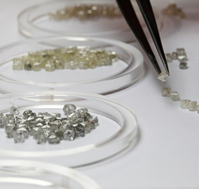 GIL provides comprehensive grading, assessing and certification services for diamonds as well as all other types of precious stones.
A GIL diamond certificate is well acclaimed as a document objectively and clearly portraying each particular stone's characteristics. Specifically, how well it fairs in each of the four Cs, Carat, Clarity, Color and Cut.
The documentation for each stone or piece of jewelry we assess is drafted by hand onto a paper copy. Certificates are also uploaded into a highly secure data bank so that each may be accessed digitally from anywhere in the world through use of a unique code provided for every stone.
As befitting a leading gemological institute, at GIL all grading processes are carried out by highly skilled, experienced, certified gemologists.
Our facilities are equipped with state of the art optic and electro optic measuring and assessing tools of trade. We also possess rare quality sets of master stones. With such means at their disposal our top of their field staff can put their expertise to full use. In this manner our clients receive nothing less than utterly dependable, well trusted, objective reports depicting each stone's grading and bottom line value assessment.
We are well versed in dealing with all types of diamonds and other precious stones. No clarity enhancing process a diamond may have undergone can go unnoticed and thus duly noted onto the GIL diamond certificate issued at the end of the grading and assessing process.
The grading scales we use for clarity, color, cut and carat are the ones commonly accepted worldwide. Our certificates, both the ones on paper as well as the ones digitally displayed, are set out in a way that makes them easy to read and understand.
Unequalled customer relations, the close personal attention each of our clients enjoy, makeup sound foundations for the top quality services we provide. No matter whether you need just one stone assessed and certified or if you are a jeweler in need of regular services, you will always enjoy the uncompromising professionalism, devotion to quality and objectivity which have earned us market leading status.