About Us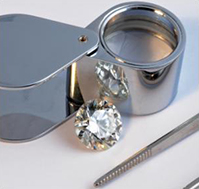 GIL, Gemological International Laboratory, is dedicated to providing the highest quality of diamond and gem grading, certification and valuation services.
Our facilities are situated within the Diamond Complex of the Israeli Diamond Exchange itself. As a leading gemological institute located at one of the world's busiest and most renowned diamond exchanges we naturally adhere to the strictest international standards which govern the field of precious stone grading, assessing and certification.
Each and every process for any stone we are entrusted with is conducted by one of our expert gemologists, all of whom are top of their field, certified professionals. As an independent gemological laboratory , objectivity is fundamental with us. All reports we issue reflect unbiased, careful examinations and as such are optimally suited to serve all parties involved in selling as well as in purchasing the precious stones we have graded and certified.
GIL is a leading gemological institution, diamonds are the heart and soul of our operation. Our diamond certificates are well respected, they are drafted in a way that plainly portrays how well the stone fairs in each of the 4Cs, the final appraisal is directly derived from these grading results. Our laboratory is equipped with all state of the art optic and electro optic tools of trade. We also use rare quality sets of master stones so that our staff have all they require in order to put their unique capabilities to full use, all to the benefit of our clientele.
We provide our services with utmost devotion to quality and objectivity no matter the scale of business associated with a particular client or how expensive the stone we are charged with grading and certifying. We are equally available for a one time appraisal as to supplying another certification for an esteemed regular client with whom we enjoy long term relations.
GIL, as any gemological laboratory operating in Israel, must operate under license and inspection of the Israeli Ministry of Industry and Trade.
When you need a diamond or gem assessed and certified you should always opt for a well respected gemological institute. GIL is exactly this type of establishment; you will undoubtedly find that a GIL diamond certificate serves its purpose in the best manner possible.